Hello Kitty Purse £2.99 @ Play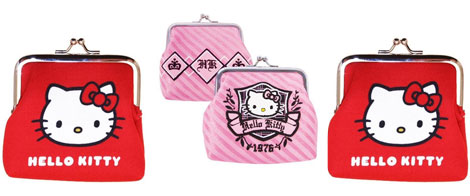 If you're looking for some Hello Kitty bits and pieces (maybe for stocking fillers perhaps! Sorry, I couldn't resist) then Play are selling a couple of Hello Kitty purses with a few pounds off at the moment.
My daughter always had a bit of a thing for purses; she still does actually, that girl has more purses than Imelda Marcos had shoes.
She's never had stacks of cash to put in any of them but that, apparently, was never the point - the point was just to 'have' them.
I don't understand!  I've been assured I don't need to and to just accept that some girls like to have purses.
So, for those of you with little girls just like that and who are Hello Kitty Fans, here are two purses for their delight.
There's a traditional Hello Kitty purse for £3.99 instead of £5.99, OR a Hello Kitty coin purse for £2.99 instead of £7.99.
Both of them are currently in stock and dispatch from Play is 'usually' within 24 hours (if you're lucky).
Delivery is free and can take up to three to four working days.
Thanks to Speculator at HUKD