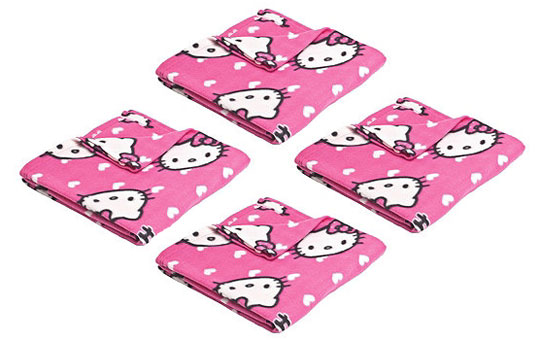 Hello Kitty fans, who feel the cold, REJOICE! Tesco Direct are selling this Hello Kitty fleece blanket for £3.50 instead of £6.96.
I love fleece things; I love how they feel when they're new; I love that they're so warm, without being heavy, and when it comes to kids I love that they are so easy to wash and dry.
There's something very snuggly about being tucked up under a fleece blanket when it's cold and hideous outside. And I really enjoy gently covering up my youngest with a warm blanket when he's fallen asleep on the sofa - it's just too cute and he looks so cosy.
My dog and the cats all gravitate to any fleece blanket, there's  no doubt about it: they are universally adored. Admittedly they don't care whether it's a Hello Kitty fleece blanket or a plain one, but the Hello Kitty fan in your family is going to LOVE it.
You can wash it, you can tumble dry it and it'll only take a few minutes to dry over a radiator, if you don't have a tumble drier.
You can arrange to collect your Hello Kitty fleece blanket from your local Tesco store, for free, or you can pay an additional £3 and have them deliver it to you.
Thanks to mycupofgreentea at HUKD