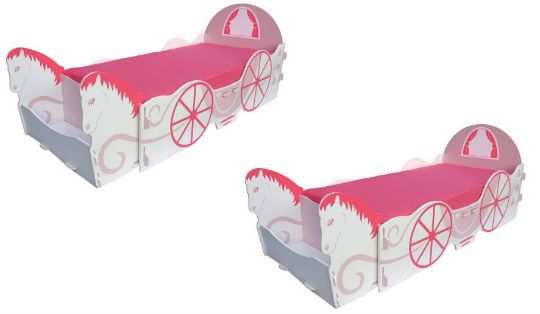 If you have a little Prince or Princess, then they may not want to sleep in a regular 'boring' bed. You need something special for them, something fancy. We have found just the thing. The Kidsaw Horse Carriage Single Bed with Front Storage is pretty cool and is only £101.69 with FREE delivery at Amazon. Normally, you would expect to pay £120 plus for this, so there's a decent saving to be had.
The Kidsaw Horse Carriage Single Bed should be really easy to build as all of the pieces cleverly slot together. Hurrah, something that doesn't involves screws and glue. It all fits together like a puzzle meaning it'll only take around 5 to 10 minutes to assemble.
The bed frame is cream in colour and is designed to look like a grand horse-drawn carriage. This should encourage your little one to stay in bed. They might just want to play in it first before any sleep happens, but who could blame them?
We are loving that it has storage at the end. I'd be tempted to fill it with books for bedtime stories, but you could stick teddies and anything else in it.