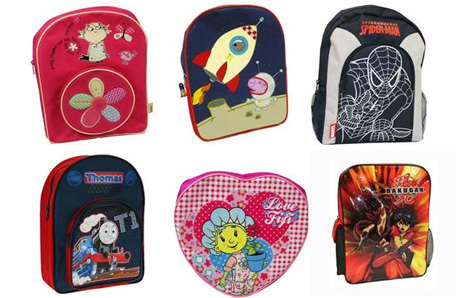 Play have LOADS of kids back packs on sale for £4.99 rather than their original £8.99 or £10.99 price tags.
Back packs are handy things to have around the house; I've discovered, over the years, that one is not enough.
My youngest has a back pack for his swimming kit, a back pack that he likes to keep his Bakugans in and a back pack for carrying general 'stuff' around with him when he goes out.
I like to tease him about having a man-bag at the age of five but he's not having any of it, apparently I know nothing and man-bags are COOL!
I also know that Tamsin's daughter (who's three weeks younger than my youngest) also loves to carry things around in her back packs too.
There are LOTS of different character designs to choose from at Play from Thomas the Tank Engine, Ben 10, Spongebob Square Pants, Peppa Pig (both Peppa and George for boys and girls), Disney Princess, Disney Cars, Chuggington, Spiderman, Fifi and the Flowertots, Charlie and Lola and MORE.
If you can't find a suitable back pack or two here then you're in trouble *grin*
Thanks to goonertillidie at HUKD