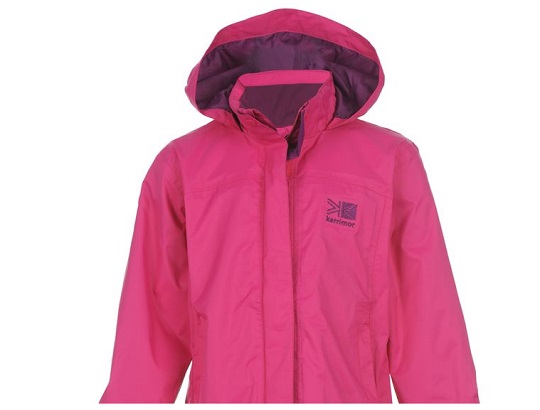 Sports Direct are selling kids Karrimor Sierra Jackets in pink for £6.99, reduced from an apparent £34.99. There's a £3.99 delivery fee if you spend under £100, totaling £10.98, which is still a good price.
I have been trying to scale down my kids' wardrobe (because there's enough in there to fill a shop!), but when it came to rain wear, I realise that one just isn't enough. If it's not wet, or somewhere drying, it's on, so I almost feel like they need three winter coats and rain jackets, to have any chance to stay dry!
The Karrimor Sierra Jacket Infants will keep you warm and protected from any harsh weather elements thanks to Weathertite fabric that is breathable, waterproof and windproof. This kids waterproof jacket is also designed with a fold away hood and storm guard collar for added protection from the weather. 
Available in sizes from 2 - 6 years, there doesn't seem to be any limits on stock just now.
There's also a blue jacket available, but it's price changes by size, starting at £8.50 and going up to £11.50.