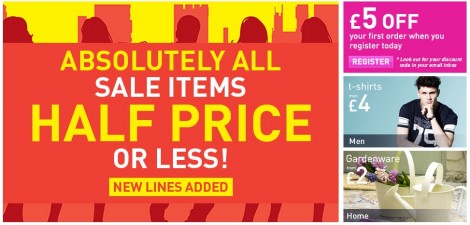 This is, I think, the first time I've seen this online retailer, Store Twenty One. The business appears to have been around a long time though, starting in 1932 as a manufacturer selling clothes to Marks and Spencer. It is now a clothing and homewares retailer with 200 stores around the country. And a website, selling clothes for men, women and kids.
Right now it has reduced children's clothes by up to 50%, and it has the same sale in its men's and women's clothing departments as well as homewares and footwear.
Examples in the sale include this 2 Piece Stripe Chambray Dress And Leggings Set for £5.99 (it was originally £12). Another cute bargain is this Longline Glitter/Check shirt, now £3.49, down from £8.
Not everything is available in all sizes unfortunately. And I noticed that there's a lot more girls clothes in the sale than boys. I might be going blind - or just being dense - but I couldn't find a way to filter for just boys or girls clothes. As there's more than a 100 items in the sale, that makes for a lot of rather laborious clicking.
Thanks to Becky2010 at HUKD!