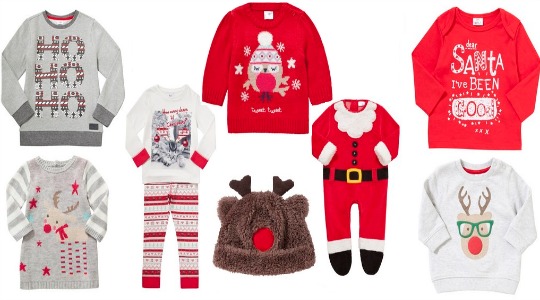 Apologies for this being more clothing, but this one was too good to keep to myself! Tesco have another clothing sale on at the moment, but newly added to it are loads of the Christmas items.  It seems very early to reduce things like this, but I'm not complaining, especially as at the moment they also have Free Delivery too!
There are some absolute bargains to be had here, and some of the baby clothes are so cute, especially the girls ones. The Tesco Clothing Sale is pretty massive, but I waded through all the newly added lines for kids and babies* and picked out all the Christmassy things I could find (you have to make your way past a lot of old Halloween stuff to find them!)
Here's the festive goodies I found:
Santa I've Been Good Long Sleeved Baby T-shirt* - was £2, now £1.
My First Christmas Dinner Bib* - was £2, now £1.
Reindeer Hat* - was £4, now £2.
Reindeer Baby Sweatshirt* - was £6, now £3.
Santa Baby All-in-One* - was £8, now £4.
Girls Christmas Kitten Pyjamas* - was £6.50, now £4.
Tweet Tweet Christmas Jumper* - was £9, now £4.50.
Penguin All-in-One* - was £10, now £5.
Reindeer Baby Dress* - was £10, now £5.
Girls Elf Dressing Up Costume* - was £10, now £5.
Ho Ho Ho Sweatshirt* - was £9, now £5.
Little Helper Pyjamas* - was £7.50, now £4.
Pack of 3 Girls long Sleeved Christmas T-shirts* - was £10, now £6.
Reindeer Jumper* - was £10, now £7.
Robin Jumper Dress* - was £12, now £8.
I only looked at Children's Clothing (again!) though the sale includes Ladies Wear* and Mens Wear* too. As with all sale stock  availability of sizes varies, but you might be lucky and pick up a few amazing bargains - I have!
Although you can always Click & Collect for Free from Tesco Clothing, Standard Home Delivery is also showing up as free at checkout with no code needed.