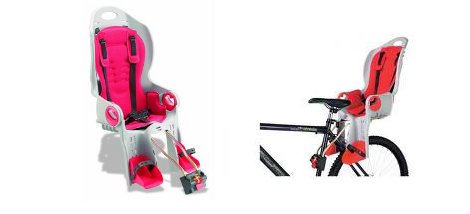 Amazon has this Kid Cool Kooki Child Bicycle Seat listed in one of it's deals of the week at the moment, and it does seem like a really good deal. The bicycle seat has 46% off, making it £32.23 instead of £59.99. In this offer, this seat is available in red or  grey, although it looks very pink in the image!
I love cycling, but haven't done so since I became pregnant with my daughter. There was just something about cycling pregnant or with a newborn in London that didn't sit right with me. Now that we're out of London, however, and my newborn is about to be a two year old, I've been itching to get back to it, and have been looking for the 'best' bicycle seat for her.
The reviews on this Kid Cool Kooki Child Seat are really quite good, and somewhat promising.
The seat has a unique folding facility for storage which incorporates a seat that can slightly recline as well as adjustable foot rests. It has a quick release system with a lock up lever which is useful if you drop your child off somewhere and can leave the seat there – in the carry sack its supplied with, no less.
From a  safety perspective, the Kid Cool Kooki seat have a five point harness, where a lot of others only have three-point, and this has a double button action child resistant tamper proof buckle, which is great.  And for comfort, the seat has a padded cover and shoulder pads.