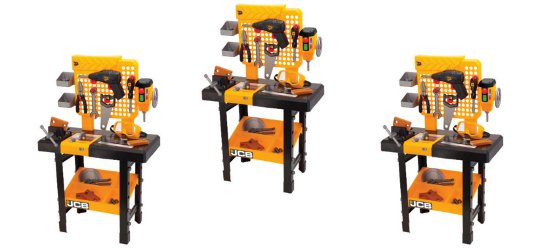 Tesco have reduced the price of this JCB Sitmaster Workbench down to £20 from £60; great news for all budding DIYers.
If you have a wannabe Bob the Builder in your family then they'll probably love you forever if you buy them their very own JCB Sitmaster Workbench - okay so they'll love you forever anyway, but you'll earn yourself a huge haul of parental brownie points!
Children always want to help out when you're doing DIY or gardening things, until they hit 16 and 17 when the simple task of breathing is too much like hard work.
So when the time to get the tools out and engage in a bit of proper 'Bob the Buildering', your little 'builder's mate' can help you out and play along with their JCB Sitmaster Workbench.
It features a pillar drill, a circular saw (I learned the other day that the circular saw was invented by a lady called Tabitha Babbit!) saw, drill, hammer, spanner, pliers, wrench and a bench vice.
The pillar drill makes realistic sounds, as does the circular saw which also gives off sparks - not sure how that works, but I bet your little DIY enthusiast will think it's COOL!
You'll need five AA batteries to unleash the realistic sounds and your little one will need to be three years or older.
You can pay £5 for next day home delivery of your JCB Sitmaster Workbench, or you can collect it in-store for free.
Thanks to danmckay at HUKD