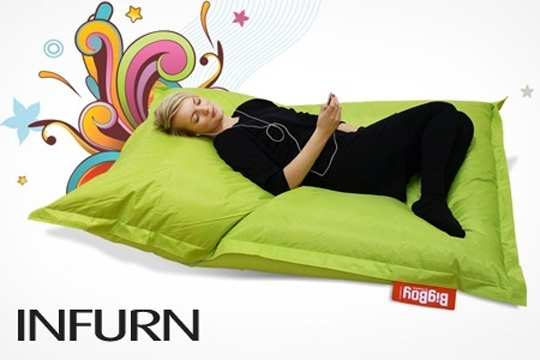 I used to have a beanbag when I was a kid but it wasn't as mega as this Infurn BigBoy Giant Beanbag, that's for sure!
As the name suggests, this BigBoy Beanbag is B I G!  It measures a whopping 140 x 180cms and has a 400 litre capacity - that's a lot of beans, well polystyrene balls, so it's a good job it has double seams and a safety feature to make it very difficult for little fingers to undo.
The BigBoy Beanbag is available in 10 different colours and the outer layer is water resistant, so there's no need to worry about anyone spilling anything on it whilst they lounge around on your BigBoy.
This Groupon deal will save you £70 as the BigBoy Beanbag usually retails for £109; all you're going to pay is £39 and £12.95 for postage (you need to allow up to six weeks for delivery).
The deal expires tonight at 11.59pm and you'll be emailed your discount code shortly after (mine usually come through at about 1.30am) which you will be able to use tomorrow (Thursday 3 November) after 8pm
Marvellous!