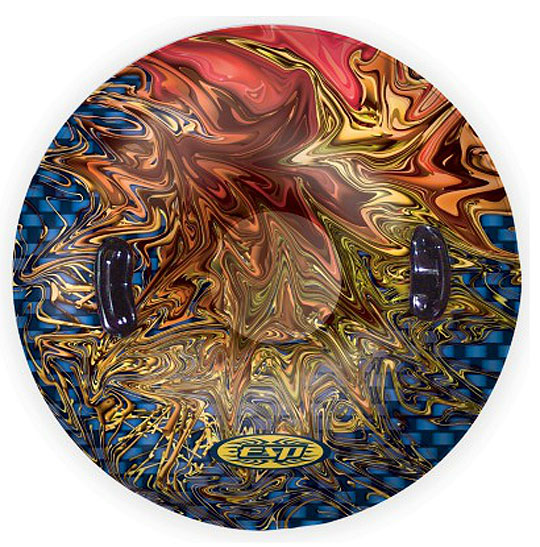 Halfords are selling these 39" diameter inflatable Super Snow Tubes for £9.99, so if you fancy playing outside in the cold stuff over the weekend then (assuming you're not snowed in!) get yourself over to Halfords pronto and pick up one or two - assuming you're not snowed in that is, in which case...you'll just have to stay put and improvise.
I cannot stand the snow! I loathe it! It's inconvenient; it causes chaos; it hangs around for ages; when it thaws a bit then freezes overnight it becomes lethal - it's just a menace!
That is all the while it's outside - I don't mind playing with inside at places like the Snow Dome in Milton Keynes.  I went sledging there with my youngest son Edward, we had so much fun!  But you see, it was perfect: go and play in the snow, then leave, safe in the knowledge that there was no snow outside.
We sledged on 'trays', but these inflatable Super Snow Tubes look even better: much more comfy, bouncy over rough snow terrain and just generally 'more'.  There are grab handles on each side, so you can hang on for dear life, and also the centre part is raised so your bum is off the snow (my nan will be pleased, she always said you'd get piles from sitting in the snow!).
You can reserve your Super Snow Tube online, then pop along to Halfords after an hour and collect it.  Or, you can arrange to have them deliver it to you, but that will, obviously, take four working days and will cost you an additional £2.99 - unless you spend over £30, in which case it'll be free.
Also, because of the snow, deliveries are being delayed so the four working day delivery time scale may end up being a little more - if you can't get to Halfords, then it's unlikely they'll be able to get to you!
Thanks to Dpdaly at HUKD