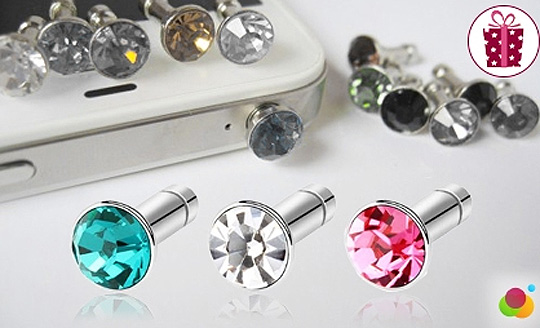 I'm really not a sparkly phone accessory kind of person, but due to recent (and ongoing!) events with my iPhone I am VERY tempted to buy a set of these I-Jewels - they're only a fiver, when their usual price is £29.97.
Although these little doofers are called I-Jewels, they're not just for iPhones - they can be used with any device that has a 3.5mm earphone jack.
So what happened was this: a few weeks ago my phone stopped playing music through its external speakers; the ring and text tones didn't work either but the alarms did.  Everything worked when I plugged the headphones in, but you can't walk around plugged into your phone headphones all day...people would think you were weird!
After much research - I nearly lost the will to live! - I discovered the main culprit was likely to be dirt or fluff stuck in the headphone socket.  There were plenty of tried and tested solutions to the problem to work through and I did eventually get my phone working properly again (although it's unhappy again at the moment - a trip to the Apple store to see one of their engineers is on my agenda for tomorrow).
I don't know about you, but my phone either lives in my pocket or gets thrown into my bag - I'm amazed the headphone jack isn't FULL of fluff and skank, and that's what these i-Jewels are designed to do: sit in the headphone socket so that all manner of detritus cannot get in there instead; HURRAH!
You get three I-Jewels in different colours; you've got just under five more days to order before the deal expires, your code may take 72 hours to activate, delivery costs an additional £1.99 per set and you need to allow seven days for delivery - I think that's everything you need to know...
Happy no fluff in your headphone jack!