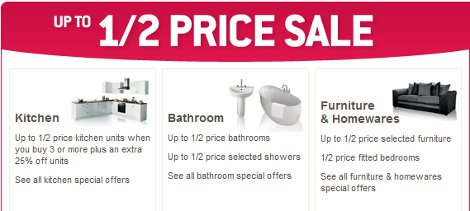 Homebase has up to half price off a range of homeware items in a sale that lasts until the 31st of January 2011
The sale includes up to half price on kitchen units when you buy 3 or more plus an extra 25% off units , up to 50% price bathrooms and selected showers and 1/3 off selected flooring .
For more aesthetic improvements that should also cost a little less, there's up to 50% off selected lighting , furniture and homewares.
If you're up for a whole lot of DIY to pass the winter months, there's offers on paint as well as 25% off selected wallpaper , half price off some kitchen electricals , fires , and other heating and cooling offers. Of course you'll need some tools to do the job, so there's a 1/3 off selected Bosch power tools, and 50% off selected Black & Decker power tools.
With winter fires all round, there's 20% off selected smoke alarms, and up to 1/2 price loft insulation to keep some of that heat inside.
And finally, as impossible as it seems right now, spring and summer will be here soon, so take a look at the outdoor living special offers.