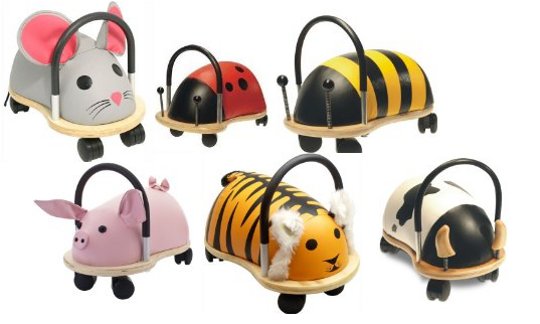 There's 31% off the Hippychick Wheelybug Ride-Ons at Amazon reducing them from £69.95 to £47.99 – for the 3-5 year old's toys. For the younger ones, 1.5 – 2.5 year old's, the toys are reduced from £59.95 to £44.96, a 25% saving.
These beautiful hand crafted ride-on toys have a wooden base and a body padded with a layer of sponge covered with tough polyurethane.  They come in a variety of animal shapes, including a bee, cow, ladybird, mouse and tiger and a small pig.
They have multi-directional castors for unlimited mobility and easy manoeuvrability. They are of a unisex nature making them ideal for hand me downs between siblings too.
Reviews for this product are generally positive, but people do tend to feel the sizes are a bit off, so it's worth reading through the comments before deciding if you need the bigger or smaller version.
There are no complaints about durability and if anything people find that their children will still grow into them – meaning they have a decent lifespan.