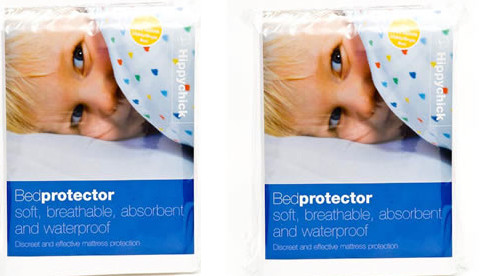 The Hippychick Flat Sheet Mattress Protector is reduced at Mattressesworld.co.uk. It's available in 3 sizes, cot, single and double and has between 45 and 69% off depending on which size you have.  Shipping on these is free too.  The cot sized is now selling for £4.99, the single for £11.99 and the double for £20.99.
I actually really regret not getting a proper mattress protector when our first was a baby. We've had one, now two babies in our bed for over three years, and the poor mattress has seen it's share of body fluid, and the ensuing cleaning detergents too. It's such an awesome mattress, I love sleeping in my own bed and I would love to try and salvage it.
The Hippychick Flat Sheet Mattress Protector is a soft and absorbent protector for children's beds. It has a breathable, 100% waterproof layer that is undetectable. It provides your child with a more comfortable alternative to plastic undersheets.
Made from a thin layer of 100% waterproof polyurethane between 2 layers of pure brushed cotton, the bed protector is machine washable and tumble drier safe. Using a mattress protector will prevent dust mites, which can cause hay fever and asthma. This bedding offers a discreet and easy method of avoiding wet beds and damaged mattresses.
Thanks to snoozeyouloose at HUKD