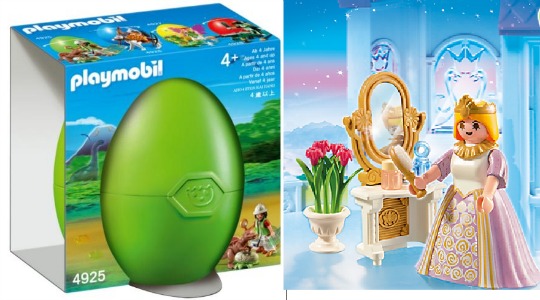 These went down a storm this year and we are fully expecting this year to be no different. I quite like the fact that year by year more companies are releasing Easter Eggs that contain toys. Not everyone wants to give chocolate to their children so this is the perfect solution. It is an egg but there's no chocolate in sight. Unfortunately, these babies aren't out until March but now you know to look out for them.
There are four different eggs to choose from at £6.99 each, which to be honest I think is very reasonable considering it's Playmobil. There's also an Easter Calendar* that costs £9.99, not sure why they have an advent style calendar for Easter but they do.
You can choose between the Princess with Vanity Station*, Fun at the Beach*, Pirate with Rowboat* and Boy with Children's Tractor*.
If you click add reminder on any of the Easter items then you will receive an email letting you know when they become available. Your other option is to wait for us to tell you. These will sell like hot cakes so you want to be ready to go if you want one.