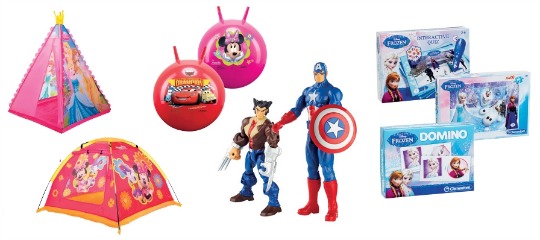 You might want to pop to Lidl next week, as they have a load of really good kids goodies on offer from next Monday 18th May. There really are tons of bargains including toys, tents, activity books, clothes, and more. There are some character items in there as well, with Disney, Frozen and Marvel toys in the mix.
Here's what they will have:
Play Tents (Disney Princess, Cars, Minnie Mouse) - £9.99
'Space' Hopper Balls (Minnie, Lightning McQueen) - £3.99
Lunch Bags and Toiletry Travel Bags (Minnie, Planes) - £3.99
Disney Frozen Games and Puzzles - £2.99 each
Walkie Talkie Sets (Disney Princess, Cars) - £11.99
Panini Sticker Rolls (Spiderman, Disney Princess, Cars) - £2.49
Avengers and Marvel Action Figures - £7.99
Teutans Base Camp - £7.99
Rubber Band Powered Aircraft - £3.99
Character Colouring Books or Learn & Practice Activity Books - £1.99
Boys or Girls T-shirts 3 Pack - £2.99
Leggings 2 Pack - £2.99
Shorts 2 Pack - £2.99
Ballerina Pumps - £3.99
Does anything there catch your fancy? The tents and toys look great to me, and with half term coming up (again!) then they will come in very handy for entertaining the kids. Those clothing packs are amazingly cheap as well.
These 'Kids Corner' offers will be in Lidl stores from 18th May, and will be subject to availability. I think these will go very quickly, so I'll see you there on Monday!