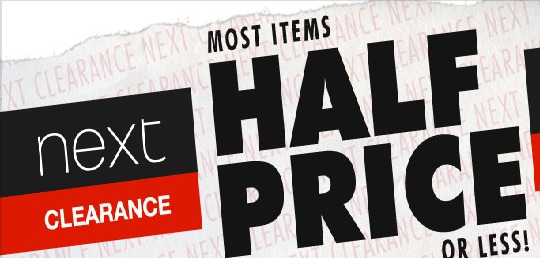 It starts this Saturday, folks! Lasting only two days, the Most Items Half Price or Better sale will be as popular as ever. If you are a Next Directory customer, get looking to see if you have been emailed for your VIP slot. Most stores will open at 5 or 6 am on the Saturday. Be prepared to queue, although this end of summer sale isn't quite as popular as the post Christmas one, shoppers will still be there like a moth to a flame.
I am a massive Next fan and there's only one thing I love more than their stores, it's their sales. I can't get enough of their homeware, womens clothes and childrenswear. I know I am not the only one to feel this way, the volume of shoppers that attend the sale events confirms that. Save those pennies and get down there. Why not grab sizes above what your child is wearing just now? It'll mean better value in the long run. Or stock up on Christmas gifts.
Get down to your local Next store as early as possible as all the best stuff sells quickly. Most importantly let us know what bargains you find.