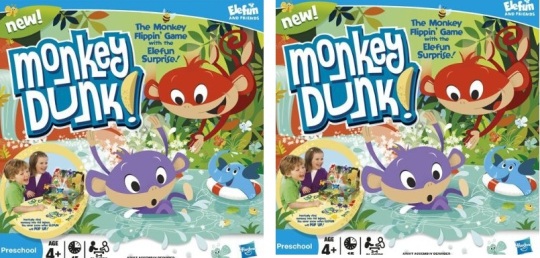 The Hasbro Monkey Dunk game has been reduced from £13.15 to £5.18 on Amazon. This is a tidy saving of £7.97, 61%, and it comes with free delivery. The game has mixed reviews, but perhaps it could make a nice addition to your growing pile of Christmas stocking fillers?
Click here to get playing with Amazon
What do monkeys do on a hot day in the jungle? They monkey about in the lagoon of course! Monkey Dunk is the action jungle board game that has you flipping your monkeys into the lagoon and trying to land as many in the water as you can.
The person who gets the most monkeys in will also collect the most bananas and win the game. However, you have to watch out for the Elefun, whenever he comes out of the water monkeys go flying everywhere.
The game takes about 15 minutes to play and looks rather fun for kids to play in the summer sun!
Thanks to dudebar at HUKD!