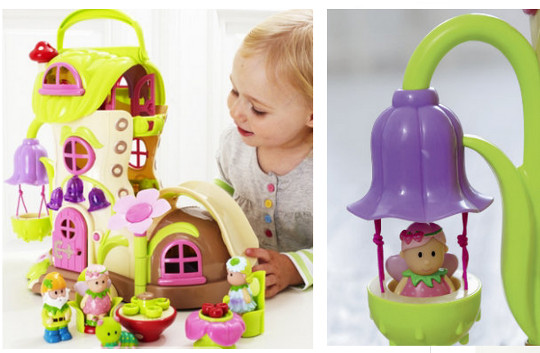 There's 50% off the Happyland Fairyland Bluebell Boot at Mothercare, and when you're looking at a £40 toy, 50% turns into a huge saving of £20!
This is such a gorgeous set. I must admit that (Lego aside) Happyland toys are among the only ones that make me question our no plastic toys policy at home (we're not completely plastic free, but we're working towards it!) They are so lovely and have such endless play options, I do love looking at them!
The Bluebell Boot opens up so that your toddler can play with the feature-packed house, bringing the fairies 'to life' in their beautiful home.
When the doorbell is 'rung' the bluebells light up, there are sounds (nothing that says which sounds though), the boot's tongue folds down into slide, there's a fairy swing under a bluebell at the back, and children can play with all their characters inside the boot or out in the 'garden'. The house comes with three fairies, an elf and a pet caterpillar. There's also a table with food, two chairs, a kettle on a stove and a petal bed!
The Fairyland Bluebell Boot is a great way to help your child enjoy using their imagination, moving the characters around and giving them voices is also great for fine motor skills and learning to talk.