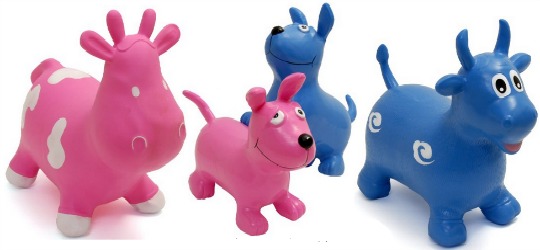 If you still need a last minute gift and you buy today you can still get things delivered before Christmas from Amazon...just. The Happy Hopperz inflatable bounce on toys are one of today's Deals Of The Day and have 30% off reducing them from around £25 - £26 to £17.49 - £17.99. That price includes Free Delivery if you don't need it before Christmas, if you do you will need to pay extra for the Next Day Delivery Service.
Happy Hopperz are bright inflatable bounce toys for young children that come in many different styles and colours. The ones reduced today are the Pink Cow, the Blue Bull, and the Pink and Blue Dogs.
The design of Happy Hopperz is supposed to help with stability and balance for young kids, as opposed to the ball shapes of space hopper type bouncers, making it safer and easier to play on. They quickly inflate and deflate and can be used both indoors and outdoors.
They are recommended for ages 12 months to 30 months, although one reviewer says he uses the Pink Cow for the morning commute... (I think 'Mark' may be messing with us...) "I use this everyday to get to work and it's still going strong. The office is only about a mile from our house and with a bit of effort I can get there in about 15 minutes. I have fallen off a couple of times but passers by always help me back on and on my way. Wouldn't recommend for longer journeys - car, bus or train would be more suitable." You have to love the reviews on Amazon. :)