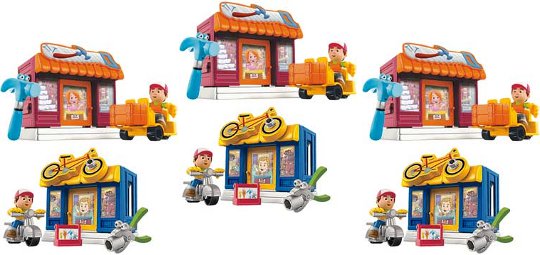 Argos have brought the price of this Handy Manny Construction set down to £4.99 from its original £12.99, and the price is valid until 29 January.
I don't know much about Handy Manny as all of my kids are out of the target age range for him, but I do have it on good authority that he's pretty cool and most mum's wish they had a Handy Manny in real life!
With this Handy Manny Construction Set you can choose to build/fix two of the shops from the Handy Manny TV programme - the Bike Shop or the Hardware Store - and do this by constructing the beams, walls and roof, and fixing the side-wall in the Hardware Store and a broken sign in the Bike Shop.
The Hardware Store comes with Pat, a fork lift for Manny to drive and a crate and the Bike Shop includes Squeeze, a bike for Manny to ride and a tool box.
Now, you can't choose which one you get if you order for home delivery (which will also set you back £5.95!) but you can ask which ones they have in stock in-store  before you place your order if you want a specific one, or make sure you get one of each.
Thanks to jenci28 at HUKD