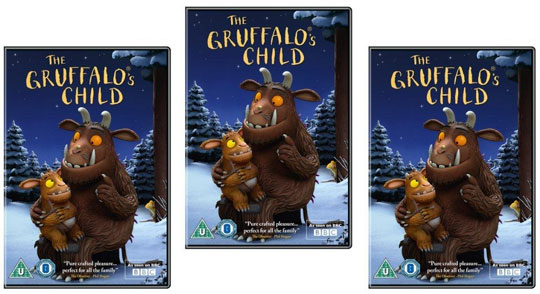 ChoicesUK are currently in the lead for offering the lowest price for The Gruffalo's Child on DVD, which is released today. They are selling them for £6.99, the full rrp is £12.99 and Amazon and Tesco can only manage £7.49 and £8.97 respectively.
Did you watch The Gruffalo's Child on TV on Christmas Day? I did and must confess to being left a bit nonplussed by it.  I absolutely adore the book, it's cute, funny and fabulous but, for me, this didn't translate to the screen.
The TV adaptation of The Gruffalo did, two years before, and so I had high hopes for The Gruffalo's Child - perhaps too high..? Please don't misunderstand me, I didn't NOT like it and I wouldn't, for a second, suggest you don't bother buying your own copy of The Gruffalo's Child on DVD because it is lovely - there was just something missing for me.
I'm not sure if there are many people left in the world who don't know who the Gruffalo is, but just in case: he's a monster who lives in a deep, dark wood, he meets a mouse (who's very savvy) and ends up being scared of him (<------ that's book one, The Gruffalo).
Then, in book two, the Gruffalo has a child and warns him not to go into the deep, dark wood because the scary mouse lives there, so what does the Gruffalo's child go and do?  That's right, sneaks off into the deep, dark wood - KIDS!
There's no delivery to pay with ChoicesUK, so £6.99 is the grand total to pay for your copy of the Gruffalo's Child on DVD.
Thanks to Kaosfusion at HUKD