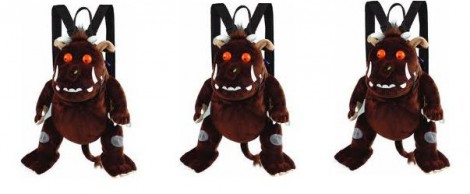 I'm in LOVE with this Gruffalo backpack! I'm in love with the price too - those lovely folks at The Hut are currently selling him for £15.93 instead of £29.99.
I've never really been a fan of novelty, or character, backpacks and I remember when Shaun the Sheep backpacks were all the rage, I didn't get what all the fuss was about.
But this Gruffalo backpack...now HE'S a totally different story!
It's no secret that we're H U G E Gruffalo fans here at PlayPennies and I think it should be made company policy that we bring our sandwiches in in our standard issue Gruffalo backpack.
Just LOOK at him, tell me he isn't the most adorable backpack creature you've ever seen!
He's suitable for little Gruffalo fans aged three years and over and there's no upper age limit so, yes, you can have one too. He has a zipped pocket at the front and he'll keep an eye on everything going on behind you when you're walking to school (or on the tube going to work...go on, I dare you!).
There's no delivery to pay when you order things from The Hut and I hope you manage to get your hands on one, or two, of these scrummy Gruffalo backpacks before they go out of stock.
Thanks to missgem at HUKD