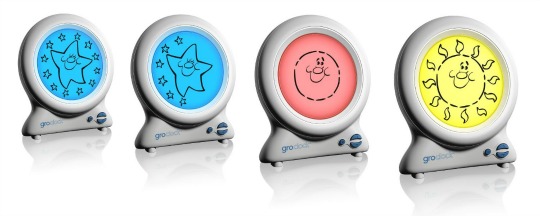 Ok, so the Gro-Clock Sleep Trainer isn't exactly a Father's Day present - but if you have little ones who wake you up at an ungodly hour, this might actually be just the ticket for putting a smile on Daddy's face this Father's Day. The price should keep him happy too, as it's currently £16.84 at Amazon instead of £29.99.
The Groc-Clock is specially designed for children who are too young to read an ordinary clock. It features a glowing screen showing images of the sun and stars to communicate the difference between sleep and wake-up time. The small stars go out one by one during the night to show the passing of time. The changing images encourage children to stay in bed longer as they learn to 'stay in bed until they see the sun'. Silent operation enables the child to continue sleeping as the display changes, and adjustable screen brightness allows you to choose the best amount of light, making it the perfect nightlight. There is an optional digital clock and audible alarm feature, so you can use it as a normal clock as your child grows up. This updated model has a new educational feature allowing parents to choose whether or not to display the digital clock during the usual 'stars to sun' countdown. So older children can learn digital time, as well as look for the arrival of the sun.
The Gro-Clock comes with a 'Sleepy Farm' story book, beautifully illustrated by leading childrens artist Mike Terry. Sleepy Farm tells the tale of a very tired pig, to help reinforce the message of the importance of a good night's sleep. Suitable from age 2 years.
With thanks to danilovesky at HUKD!