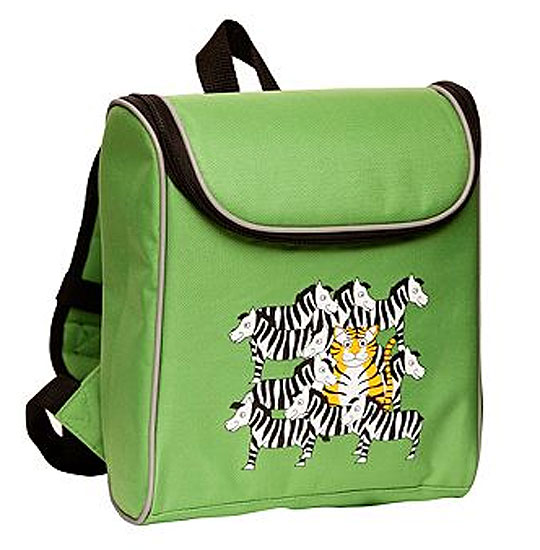 I rather like this Green Zoo backpack that Debenhams have on sale for £3, rather than its full price of £10.
Okay, I have no idea how I'm going to meet my minimum word limit for this Green Zoo backpack but, hey, I've written an entire review about two square naan breads so I'm sure I'll manage!
Let me see - the Green Zoo backpack is green (ha, I'm really scrapping the bottom of the barrel with that) and its motif is a tiger who has been surrounded by zebra.  It zips up, is made from polyester and measures 21 x 10 x 26 cm - so it's not huge and won't swamp really little kids.  The piping around the edges looks like it might be reflective too, although I don't know, so please don't rely on that!
It's the perfect size, in fact, for a lunchbox, a drink and a couple of pieces of fruit - I tell you when this little Green Zoo backpack would come into its own: on school trips when your child just has to take their lunch.
You can choose how to get your hands on your Green Zoo backpack - either arrange to pop into your local Debenhams store to collect it, or have them deliver it to you.  Either way, both options are freeee; hurrah!
Thanks to oumk2001 at HUKD