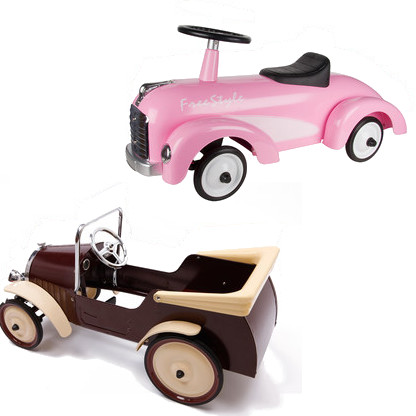 Zulily have two absolutely gorgeous ride-ons on offer between now and Wednesday, as long as stocks last.
The Freestyle Speedster is a set of wheels that could make an awesome present for a little person. Recommended from age 1 up, it is built from steel and has a scooter operation - pedal power, I think that's called! It's 26 x 76 x 37cm in dimensions and is totally gorgeous.
The Brown Deauville Ride-On Car is metal made, but has rubber tyres. It's a bit larger than the Freestyle Speedster at 96cm W x 54cm H and weighs 6kg. It's recommended for ages 1 - 3, and does require a little bit of self assembly.
Now look, I know there's not a kid in the world that needs this ride on. At 1 year old they're as happy with a box with painted on wheels as they would be with this, but man alive, won't these make for the cutest photos?  Sometimes you just have to do it.