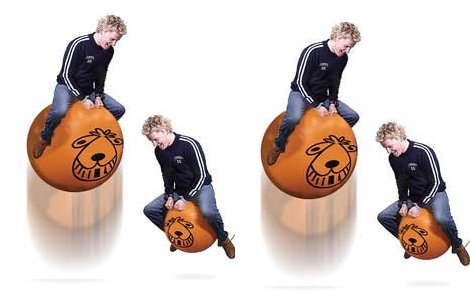 ALL HAIL the retro magic of the Giant Space Hopper!
I used to have a Space Hopper as a kid and I adored bouncing around on him (all Space Hoppers are hims in case you didn't know).
Then, years and years later I went to party where the theme was retro and the odd Space Hopper had been hauled out of the back of the loft, was dusted off and brought along to be bounced on when enough alcohol had been consumed.
The thing is we'd grown up but the Space Hoppers hadn't! And whilst it was amusing to watch adults trying to boing around on the toy from our childhoods...the experience just wasn't the same.
SO, seriously, REJOICE in the joy that will be had from having a GIANT Space Hopper to bounce around on!
We can now relive those days where we grabbed hold of an orange pair of horns and boing-boinged all over the place for not other reason than we loved to boing and bounce.
There is absolutely no other purpose for the existence of, and purchase of, a Giant Space Hopper other than to act like a kid again - and I'm all for THAT!
This Giant Space Hopper should be £16.99 but Argos are letting him bounce away with you for £8.49.
He's avaliable for home delivery - although will all the delivery delays due to snow who knows when he'd arrive - or you can go and collect him for free at your nearest Argos that has him in stock.
Thanks to prettyprincess at HUKD