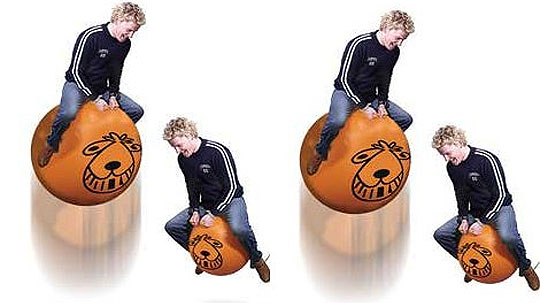 HURRAH! The Science Museum Giant Retro Space Hopper is making its annual appearance discounted appearance on Play and has, this time, been reduced down to £7.99 from £19.99.
I had a Space Hopper when I was a little girl, so did all my friends, and we LOVED them!  Many years later I went to a retro party and a couple of friends had hauled out long-abandoned Space Hoppers; we had all grown up but the Space Hoppers hadn't - they were TINY and much conversation ensued about how they'd seemed a lot bigger when we were small.
After a fair  bit of alcohol had been consumed, caution was thrown to the wind, orange horns were grabbed and racing on Space Hoppers designed for five-year-olds commenced - from what I remember, it was rather amusing!
It would have been much better to have been able to race on several giant retro Space Hoppers, or maybe it was so funny because they were small ones, and when I say giant I mean giant - 18 stone is the maximum weight it can handle, which is loads - I could go tandem with someone who weighed the same as me and still have a couple of stone left to spare; awesome, tandem Space Hopping...can you imagine!
Thanks to Cati at HUKD