FREE Sample Goody Bags From Bioskin Junior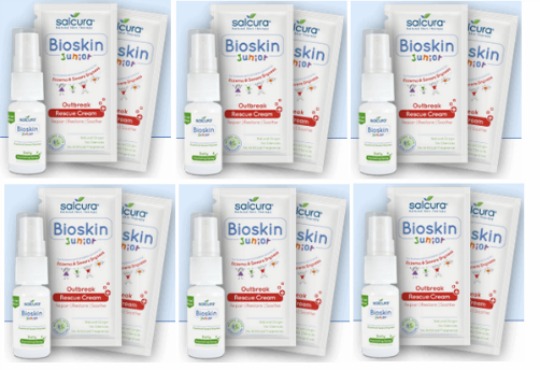 Bioskin Junior have launched an incentive to restore smiles on 10,000 children's faces. They are doing this by giving away Bioskin Junior Goody Bags to children that suffer from eczema. The Sample Goody Bag from Bioskin Junior contains a Daily Nourishing Spray and two sachets of Outbreak Rescue Cream. These products are formulated for children with eczema. For your FREE Bioskin Sample Pack, click the link below and fill in the form.
My son had eczema so bad as baby that I used to weep for him. His skin was dry, tight and would split open at the drop of a hat. Everyone expects babies to have smooth, soft skin and were more than happy to tell me so. We tried lots of lotions and potions given to us from the GP but nothing worked spectacularly. The reviews for Bioskin Junior seem very positive and I am sure had I known about it then, I would certainly have sent off for one of these FREE Goody Bags.
Thanks to Taken At Dawn @ HUKD