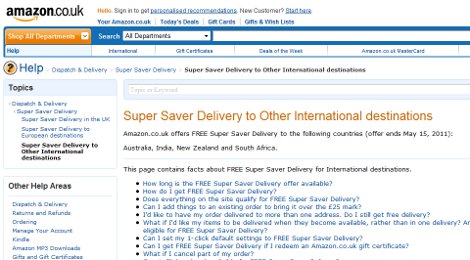 Amazon.co.uk is offering free Super Saver Delivery to Australia, India, New Zealand and South Africa on eligible Amazon items until 15 May 2011.
Almost everyone has family or friends living abroad these days and while that makes for cheaper holidays in the sun, it can be really tough when it comes to gift giving. One year, for Christmas, I sent a bunch of Advent Calenders to our three god children and four cousins in South Africa. The Advent calenders cost me £1 each, so £7 for the lot but posting them cost me almost £14!
Which is where deals like this one are fantastic. For a minimum spend of £25, books, music, DVDs and videos purchased from Amazon directly (i.e. not Marketplace sellers) will be sent in one parcel. You can deliver to different addresses, so long as each address has over £25 worth of goodies.
If you have an Amazon gift voucher, that can be used to offset your £25 too.
For me, this means that £50's worth of Christmas and birthday presents for 2011 for three god children will cost me just £50, without the painful excesses of postage.