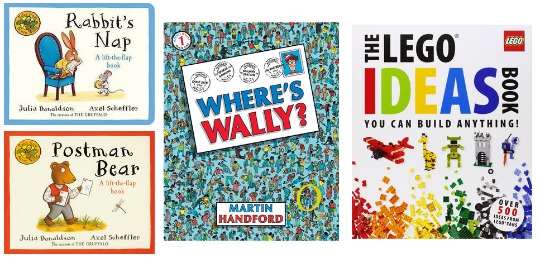 I love The Book People as their children's books are such fantastic value, and I'm going to be grabbing some bargains today as they have a voucher code that gives free delivery when you spend over £10. Normally you have to spend £25 to get the free delivery, and that is a lot of books at their prices, so this code means you can order just a few things and save yourself the £2.99 charge.
Click here to shop @ The Book People*
Discount: Free standard delivery, saving £2.99
Minimum Spend: £10
Expires: Unknown
Code: WELTULIP
There are tons to choose from in childrens books, and some of the Children's Collection are just under that magic £10 spend at £9.99, but add another mega cheap book like the huge A Doodle A Day* activity book for £2 (was £9.99!) and you can use the code.
If I didn't already have them I'd be ordering the Julia Donaldson Acorn Wood books like Postman Bear* and Rabbit's Nap*, as they are only £2.49 each, and are lovely lift the flap books for toddlers and pre-schoolers.
If you want to stock up on some activity books to keep the kids entertained on rainy days then a pack like the 8 book Lego Minifigure Sticker Collection* is fab value at £7.99. Just make sure you add the Lego Ideas Book*for £3 (down from £16.99!) and use the code for free delivery.
I'd also recommend the Where's Wally Wonder File*, a pack of 5 of Wally books that will keep children busy for hours. Honestly, they're a godsend. Once they've found Wally on every page, get them to go back and find Wanda, and the Wizard, and all the Wally Watchers and on and on. It might be the most useful £7.99 you spend!
Check the Outlet for the best bargain books, where in the children's section nothing is over £4. Anything over £10 and you get free standard delivery when you use the code WELTULIP. You can find this The Book People voucher code along with money saving codes for many other retailers over in our voucher section.