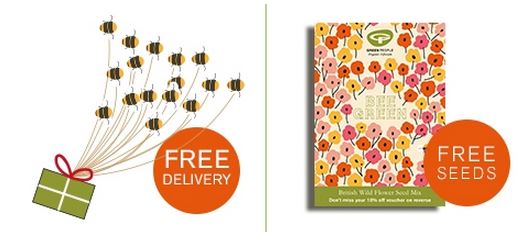 Organic skin care producers Green People are offering every shopper a freebie during March. With every order with a UK mainland delivery address, you will receive your delivery free, as well as a pack of bee- friendly seeds for making your own seedbombs,  or bringing some colour, and with it some wildlife, to your garden.
Delivery on your first order with Green People is normally free, but thereafter you pay £3 for orders under £50. This often makes shopping at Amazon or Waitrose for Green People products cheaper, but in this case, where the shipping is reduced to nothing for the whole month, it can be great to support such a fabulous brand directly.
As for the seeds, they don't give you much information there, but the packaging does say that it is a wildflower seed mix.
So you could, for example, buy the Limited Edition Eco Eye Trio for £5, reduced from £10, and for the grand sum of £5, receive your make-up, seeds (which are normally worth £2 - £3 in the supermarkets, if not more!) and delivery included. Not a bad deal at all.
Of course you can buy your usual products too, and just enjoy the free delivery, and motivation to get into the garden.