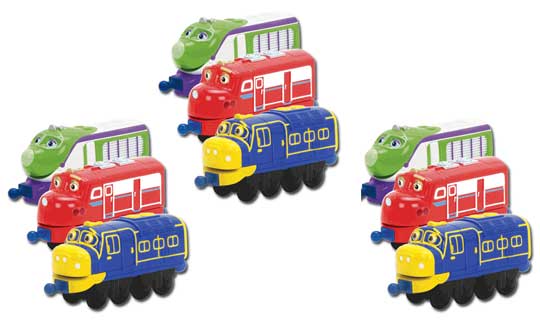 Now I say this Chuggington diecast train is *free* because you have to buy a copy of the Daily Mirror and Sunday Mirror newspaper, which obviously have a cost, in order to get the two tokens you need for your Chuggington train.
So, if you can bring yourself to go and pick up a copy of today's Daily Mirror and tomorrow's Sunday Mirror - you can always go in disguise or try to persuade/bribe/pay/blackmail, if necessary, someone else to do it for you - you can bag yourself a Chuggington diecast model.
Once you've got your two papers you'll need to cut out the tokens, then beetle off to Toys R Us to redeem them - the usual price for a Chuggington diecast model is £4.95.
You are going to have to go out into the big wide world to take advantage of this deal, online redemption is not available, but if you have a young Chuggington fan in your family then it'll be worth it - just let them know what you're doing for them by going anywhere near those Mirror publications, and don't forget to scrub your hands afterwards so you don't feel dirty *grin*
Thanks to Syzable at HUKD