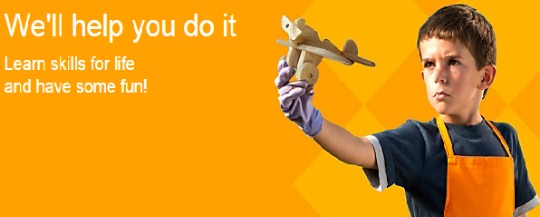 Half term isn't that far away. My children come off today, sob, sob. I am relying on activities like the FREE B&Q DIY workshops to get me through the next two weeks. It's just not do-able to take the kids out every single day. I'd be bankrupt!The workshops are aimed at kids aged seven to eleven. It's not just children, that B&Q cater for either, they have started to run workshops for adults. I really should attend a few. I am the sort of person that hammers screws into walls to hang up pictures.
The workshops run on Saturday's and Sunday's from 10:30 – 11:30am. They are only FREE for B&Q Club Members or £5 for non B&Q Club members. *A tip, JOIN the B&Q club it's FREE!*
With over 30 workshop topics, they change frequently. I think that's great, think of the skills your child could acquire attending these on a regular basis. They have workshops in November, that teach children how to make Advent calendars and Santa, stop here signs.  I am signing my boys up as you read this. What a super idea!