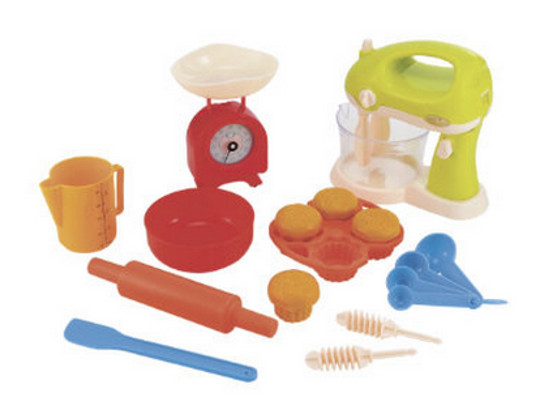 ELC have a realistic food mixer and accessories for sale for £10 - have the RRP and normally for sale at £20. Using the code SANTA25 that's been floating about for a few days you can take 25% off orders,further reducing it to £7.50 and with free delivery.
The Complete Baking Set is a collection of fun, bright cookware, perfect for play mixing, whisking, and blending. The working food mixer comes with 13 accessories, including a rolling pin, weighing scale, spatula and measuring jug. It has two modes, manual and automatic, and a red light that comes on when it's whisking. The two whisks are easily detachable, and the mixer as a whole can be either hand-held or stand-alone – it detaches from its base at the press of a button.
The whisk and blades are detachable and interchangeable. It's probably worth mentioning here that they recommend not using these with real food and not eating anything made using the set. You'll need 2xAA batteries to keep it all running.
Thanks to wishIhadadonkey at HUKD