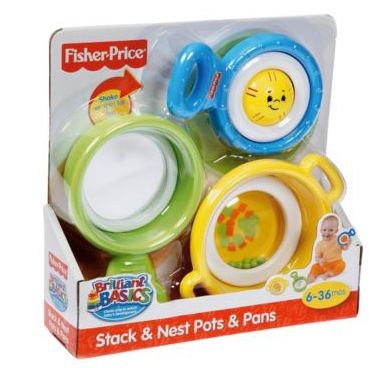 The Fisher-Price Brilliant Basics Stack & Nest Pots & Pans at Tesco Direct are reduced from £9.97 to £4.97.
What is it about stacking pots and toddlers? I took my daughter to a Pampered Chef kids party thinking she'd enjoy getting her hands dirty in the playdough like pizza dough that the children made, but she spent the entire time fitting measuring cups into each other, taking them apart again and putting them all together again. That was pretty much her entire contribution to the morning while I made her pizza. She did enjoy the eating though.
Once we were back home my cupboards and my measuring cups have not been safe from little hands again. She just loves them, and is now totally into stacking cups, rings, blocks, you name it.
This Fisher-Price stack and nest pots and pans set provides your little one with a colourful set of kitchenware to play with. The pots and pans in this set can be stacked or you can nest them together.
The peas rattle, the rolling pot has a jingle ball and the frying pan features a mirror for them to observe their reflection. It doesn't require batteries or make sounds, so that's an added bonus and a fun distraction.
Thanks to dlee04 at HUKD