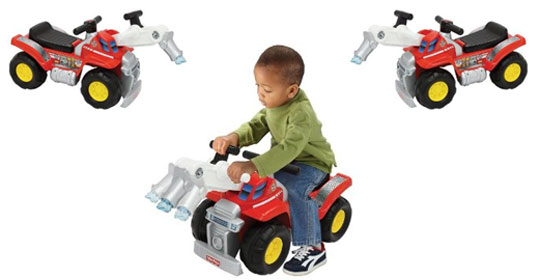 Amazon are selling this Fisher Price Fire Truck ride-on for £14.95 - its usual price is £41.99, which makes this deal price an absolute bargain!
Maybe not so many girls, but tell me how many little boys wouldn't happily play at being a fireman, for hours, on this Fisher Price Fire Truck ride-on (I know that firefighter is the more correct job title these days, but when you're little you're just a 'fireman' and extreme political correctness best left to certain types of Daily Mail readers).
Lots of them, my youngest had a JCB ride-on when he was the target age for ride-on toys; he had a real thing for all things 'digger' but would have had a tough call to make if he'd had to choose between that and this Fisher Price Fire Truck ride-on.
It has an extending fire hose and features big chunky wheels and storage under the seat for stashing various bits and pieces - whenever anything went missing in our house when Edward was little, anything that had under-seat storage was the most obvious place to look and where most things were found.
The Fisher Price Fire Truck ride-on also comes with the batteries it requires to flash its blue lights and make its fire engine sounds.
There's no specified age limit associated with this Fisher Price Fire Truck ride-on - there aren't any pedals for little ones to get their leg coordination around, so I'd hazard a guess from 18 - 24 months onwards would be a fair bet.
It'll all depend on how tall your little one is, or how much you're prepared to push them along before they can scoot around on their Fisher Price Fire Truck ride-on for themselves.  Either way, at this price it'd be well worth buying it early and stashing it away for the future.
Thanks to wishihadadonkey at HUKD