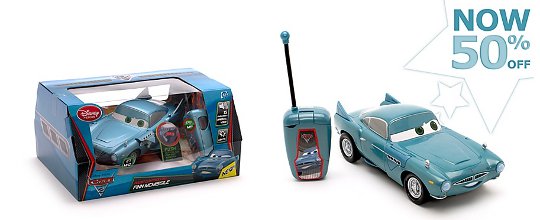 There's 50% off Finn McMissile, the remote controlled car from Cars 2 at Disney Store. Normally retailling at £25, it is now £12.50.
This fun and snazzy looking remote controlled car comes with a handset that sends Finn McMissile forwards and backwards, steers it left and right, and activates 15 popular phrases.
The car features pop-out wings and light up machine guns – in true spy-car fashion.
Finn McMissile measures 8cm high by 26.5cm in length, making it a decent size to play with – although it's suitable for children aged 3 and over. It requires both a 9V battery and 5x batteries, which are all included.
If there's a Cars 2 fan in the house, this looks like a brilliant little gift idea, at a pretty great price, even when you include the £4.95 standard delivery option, but fortunately the offer is available in store nation wide.
You can complete the set with Lightning McQueen, Mater and Francesco, but they'll cost you £25 a piece.
Thanks to Jaysmorri at HUKD