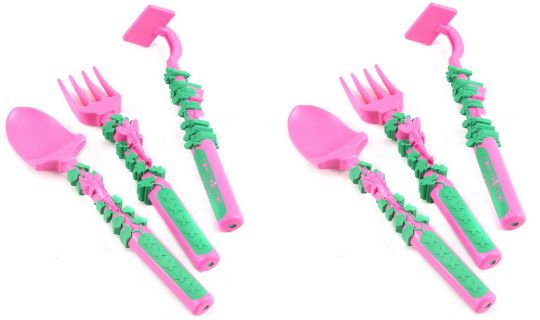 How adorable is this children's cutlery set? The Constructive Eating Fairy Garden Utensils are a wonderful way for kids to have fun with their meal and a good way to help fussy eaters get to grips with trying new foods. This set is normally priced at around £15, but Amazon seller JB Watches are selling them for just £5.99, and that even includes free delivery!
This fairy garden set means that children can dig, fork and hoe their food and the distraction may just help them to consume a bit more food rather than keep protesting! That's the theory at least!
Even if you don't have fussy eaters to contend with then this set will still provide lots of fun at meal times with the cute garden theme and the fairies and plants featured on the cutlery.
If fairies aren't a favourite with your child then the other design is the super popular digger set, and although that is cheaper than we have seen it before, it's still £14.50. Cool though. ;)