Fairground Candy Grabber £9.99 @ Argos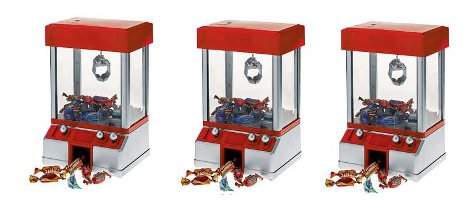 The fairground candy grabber from Argos is currently £9.99, which is less than half of the original £24.89. Judging by the 81 customer reviews, it is quite a hit with children.
The fairground candy grabber is reminiscent of childhood days in fairgrounds and arcades, with an authentic grab machine appearance – although, mercifully, somewhat smaller.
You have two minutes to use your skill to pick up a sweet from within the machine, and as time goes by the music gets faster and faster. The primary downside, according to the parents who owned and reviewed this product, is that there's no way to switch the music off.
Despite that, however, the reviews are overwhelmingly positive. It's great fun, and the kids love it.
The fairground candy grabber comes with plastic coins, and requires three batteries, which aren't supplied.
I don't see any reference to this, but it would also be nice if instead of sweets you could use, for example blocks of Lego, or other little toys, stones and so on.
The candy grabber is out of stock for delivery, but can be reserved for in store pickup.
Thanks to sonygeezer at HUKD