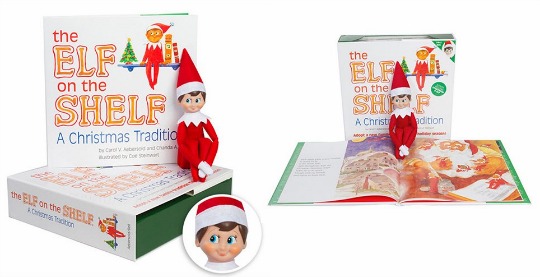 If you haven't heard of Elf On The Shelf before then you can check out what it's all about here. This Christmas tradition just grows in popularity every year, if you're thinking of starting this tradition in your household then you need to take a look over at Prezzybox as the Elf on the Shelf set is the cheapest we have seen it for a while.
Prezzybox are currently selling the Elf on The Shelf set for just £26.95, however by using our Exclusive Playpennies Voucher Code for Prezzybox, you can also get an extra 15% off the price, which takes this set down to a bargain price of £22.90! All you have to do is follow the link on our Vouchers Page and you will be given a unique code to enter at the checkout. Now all you have to do is start thinking of hiding places for your mischevious Elf!
What with having to make all the toys for the entire world, Santa has his hands full every Christmas. So, he sends one of his Christmas Elves to each house to see which children have been naughty and which ones have been nice.

The Elf reports back to Santa each night and gives the naughty and nice report. Each morning before the children awake the elf has used its "Christmas Magic" to fly back to a new vantage spot for the day to watch over the children. It is a fun hide-and-seek game for the entire family during the holiday season!

A really simple and cute idea to make sure no-one ends up on Santa's naughty list this Christmas and for many years to come.
Don't forget to check out our round-up of Elf on the Shelf ideas, too!
Standard home delivery is £3.95.