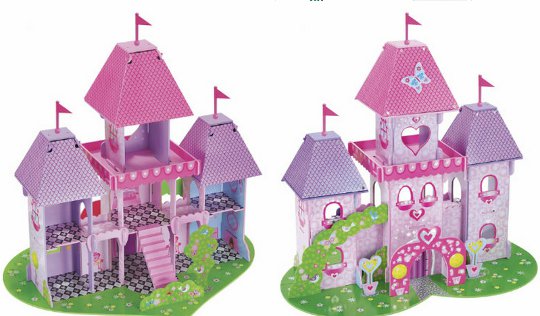 Mothercare are selling this Early Learning Centre Wonderland Castle for £35 instead of £85; marvellous!
This Early Learning Centre Wonderland Castle is REALLY not my 'thing' at all - give me LEGO, give me Star Wars and go-karts and tree-climbing expeditions, but please don't give me a girly pink fairy princess castle!
However, if you have a wannabe fairy princess in your family then I suggest you get yourself over to Mothercare, pronto, pick up one of these Early Learning Centre Wonderland Castles and stash it away for 111 days, when it can be unwrapped for Christmas.
Here are the pertinent things you need to know about it:
It's made of wood (hurrah, no plastic - at least that's one thing I can love about it!)
It's a two-storey building with a three-storey tower
You'll need to put it together - 30 screws hold it all together, which are included; you'll have to provide your own screwdriver, because that's not
It's dimensions are as follows: Height 78 cm x width 88cm x depth 64cm
Dolls and accessories for the Early Learning Centre Wonderland Castle are available to  buy separately
Delivery to your home is free, or you can collect it for free in-store too if you just happen to be passing - it's entirely up to you.
Thanks to allaboutfamily100 at HUKD