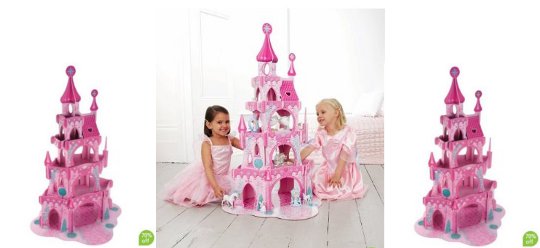 QUICK!  This ELC Snow Queen Palace is showing as 'low stock' on the Mothercare website, which isn't surprising as it's been reduced down to £19.50 from a whopping £65.
This is SO not my sort of thing - pink plastic tat that is just a fairytale doll's house, of sorts - but as I'm in the minority when it comes to things like this ELC Snow Queen Palace and it's SUCH a good price, I'm going to swallow my loathing and tell you all about it.
Both my nieces would LOVE this ELC Snow Queen Palace, it's right up their street - it features sparkly blue ivy (maybe THIS is where Beyonce's new baby daughter got her name from!) and doves and bows, all the frilly frou-frou things for girly girls.
It has a large ground floor, two main levels upstairs and three towers at the top; it has a large open design too, allowing little hands to be able to reach inside from all sides.
Now remember, Mothercare are saying that stock is LOW, so if you have a little princess with a birthday coming up in the not too distant future (or even the distant future) then grab one pronto and stash it away somewhere safe - with a saving of £45.50 it's too good to miss.
You can collect your ELC Snow Queen Palace free from your local Mothercare or pay for home delivery.
Thanks to monkey madness at HUKD