Early Learning Centre Sale - Up To 50% Off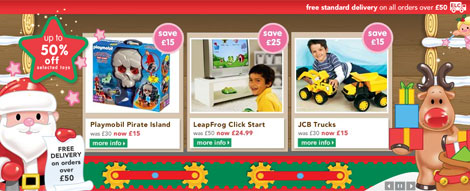 If you're looking for some great discounts on toys for Christmas, then popping in on the Early Learning Centre Sale could see you bag up to 50% discount on selected toys!
I've just seen that JCB trucks have 50% off in the sale and my youngest is a SERIOUS JCB fan - he's been able to tell the story of the rise of Joseph Cyril Bamford since he was about two years old; he loves going to DiggerLand, he has JCB t-shirts and his most favourite song is...yep, you've guessed it 'The JCB Song' by Nizlopi (I'm rather fond of it too!)
Leapfrog Click Start Systems are included in the sale with some very nice discounts applied - it was £50 but has been reduced to £24.99.
There are only 32 days left until the Big C day now; if you're going away then your potential shopping days and time to get everything sorted are even less!
There are 50% off Megabloks for the younger kids, remote controlled trucks for the older kids and arty thing like easles for the creative ones.
Something for everyone that's for sure!
If you take advantage of the Early Learning Centre Sale and do all your toy shopping here, you'll get free delivery if you spend over £50 .
Thanks to dalez over at HUKD