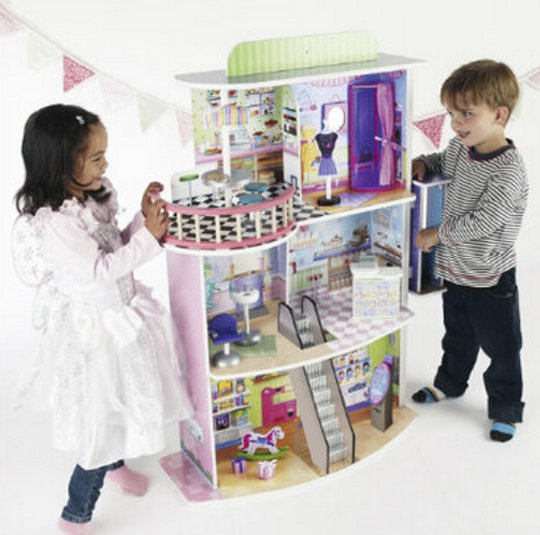 If you're in the market for a dolls house, the Mansion Department Store from ELC is currently selling at a fantastic price.  Originally £140, but on sale for £70 and further reduced by 20% (with the code: CROCODILE) to make it £56 – a rather tidy saving of £84.
I'm just the worst when it comes to making decisions, and I've been toing and froing between a play kitchen and a dolls house for so long, a year has almost passed since I started thinking about it and I have still not bought either for my fast approaching three year old.  This dolls house department store, however, is such a good price, it almost seems rude not to buy it, just for the savings alone.
As the name suggests, there's loads going on in this department store. There are three floors with a toy shop, sweet shop, hair salon, café and clothes boutique with changing rooms, just to name a few of the shops.It has an escalator a life and a cash machine. There are some furniture and accessories included, like a cash desk, café table and chairs, a rocking horse, salon chair and basin, clothes model, and pizza.
Dolls are available separately.
Thanks to leajane28 at HUKD