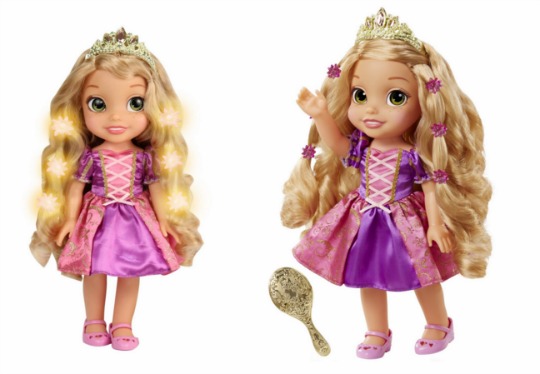 You guys are really on the ball today and here's another super price drop in today's Toy Price War! The Disney Princess Hair Glow Rapunzel had dropped in price today at Amazon to it's lowest price yet at £25.54, and that includes delivery too!
This toy has an RRP of £34.99, and although it was selling for around £39 previously the price has gone down today to this bargain level. It's part of Amazon's efforts to match the Argos 3 for 2 on toys that started today, but to be honest as long as the prices are dropping it doesn't matter why!
Becky wrote about this Disney Princess Hair Glow Rapunzel the last time it had a price reduction and this is what she said about it:
The Rapunzel doll is from the popular Disney film, Tangled. Rapunzel's beautiful, long magical hair is what makes her really special. Included with the doll is a hairbrush, when you use the brush to comb Rapunzel's hair it magically lights up and glows as it does in the film. She sings her hit song from the film, 'I See The Light', the magical moment when she sees the lanterns being released. This doll is a must for any Tangled fans this Christmas!
Lots of today's big price drops have been selling out almost immediately so you really need to be quick to get this toy! It's at moments like this that I begin to question the wisdom of my early shopping as most of my Christmas gifts are already bought! I'm wishing now that I'd held out a bit longer as there are so many toy bargains out there today. This did NOT happen last year though so those toy stores are full of surprises this year!
Thanks to Rachel on our Facebook page.