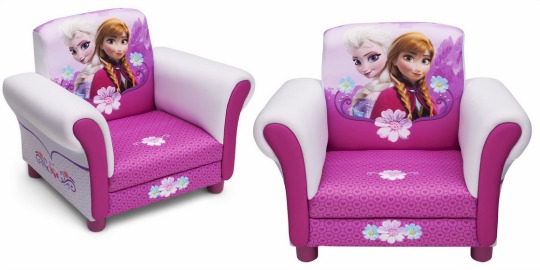 This Disney Frozen Armchair is reduced at Amazon from it's regular price of £69.99 to £52.49, a saving of 25%, and that includes free delivery as well.
However, if you sign up for a free trial of Amazon Family* then there is a voucher code which you can use that will give another £10 off! You can sign up for Amazon Family here, then you can use the code BABYFMLY10 for that £10 off. Just make sure that once the item has been dispatched you cancel your free trial if you don't want to continue it otherwise you will be charge the £79 per year subscription fee.
The chair is a hardwood frame with padded upholstery to make it nice and comfy, and it is suitable for ages two and above, so it's a smaller size for younger children.
It should please little Frozen fans with it's pretty pink and white colours, and the pictures of Anna and Elsa will go right along with a Frozen themed room.
Just remember to cancel that Amazon Family membership before the free trial ends to avoid getting hit with the yearly fee!