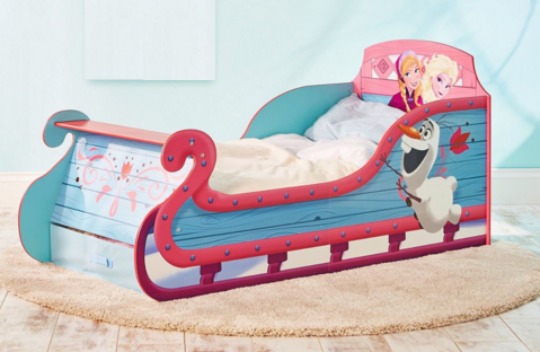 Wow! This Disney Frozen Sleigh Toddler Bed is brand new and is selling out straight away everywhere! Although it was £199.99, right now you can get it from or Argos for £157.69 including delivery when you use the code FURN15 at the checkout! Plus as they have their voucher promotion running at the moment you also get a free £10 voucher as you have spent over £100!
This Frozen Sleigh Bed is a toddler size, so is suitable from around 18 months up to about age 5 depending on the child. It has an underbed storage drawer, a shelf at the end of the bed and protective side guards.
Argos have the price listed as £174.99, the FURN15 code takes if down to £148.74, and the delivery adds another £8.95, making tha total £157.69. Considering this has been selling out at the full price of £199.99 I think this is an amazing bargain!