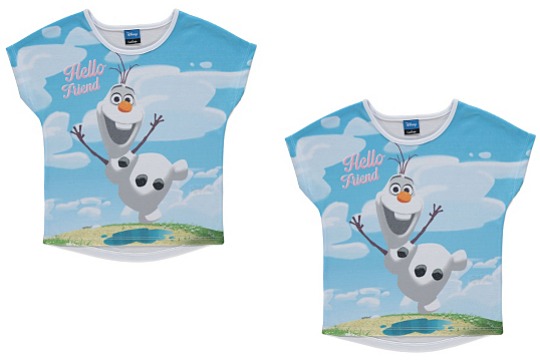 If you have ever read any of my previous posts about Disney Frozen then you will know that my favourite character from the film is Olaf. He just screams great fun. So, when I found this Disney Frozen Olaf T-Shirt reduced at Asda Direct, I just had to share it with all my fellow Olaf fans. It was £5 and is now only £3.
The Disney Frozen Olaf T-Shirt from Asda Direct feature a scene with Olaf on the front. It's not just one lame little motif either as it stretches across the whole screen.
The material used to produce this Disney T-Shirt is 100% Polyester which means it can be machine washed and can also be tumble dried on a low heat. That is just what you need at this time of year, when you can't get your washing out.
There's these funky Disney Frozen Leggings* too from just £3.50. Although I don't think you would want to wear them together. Would look a bit loud.
You can collect the Disney Frozen Olaf T-Shirt for FREE from your local Asda store or pay £2.95 to have it delivered to your front door.